Ghibli Museum Mitaka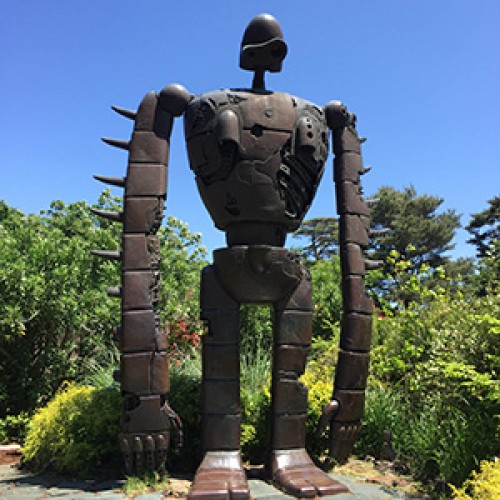 Leading Animation Studio
Japan's leading animation producer is without a doubt Studio Ghibli, having produced 6 of the 10 highest-grossing films in Japan. The studio is known for its dreamily beautiful anime movies and has also produced several short films, television commercials, and a television movie. It was founded on June 15, 1985, after the success of Nausicaa of the Valley of the Wind (1984). The studio is directed by the acclaimed Hayao Miyazaki, an animator, filmmaker, screenwriter, author, and Japanese manga artist. Miyazaki has achieved international recognition as a master storyteller and anime feature film director and is considered one of the best filmmakers in the world of animation worldwide.
The Ghibli studio is equally important in the world of animation as is the Walt Disney studio. In fact, the latter is responsible for the distribution of Ghibli films in America and part of Europe. Due to its enormous fame, the Ghibli Museum was opened in 2001. It is located in the Inokashira Park in Mitaka, a city in western Tokyo, Japan. The museum combines characteristics of a museum for children, a technology museum and a museum of fine arts, is dedicated to art and animation technique. The Ghibli studio films are suitable for all audiences and always have a profound message about the importance of life and humanity. There are movies to enjoy but also to reflect.
Common Elements
Common themes and artistic styles are shown throughout the Ghibli universes; environmentalism, flight, childhood, metamorphosis, climate, worlds within worlds, community, and mythologies of Japan and Europe. Although each story takes place in apparently different worlds, these common thematic threads often unite them in something unmistakable.
One key element in the making of the spectacular films is the use of color. Matching colors is a very important key to convey a film's meaning and is used to reinforce time. "It is often said that the use of different colors is something that the Japanese are good at," explained one of Ghibli's producers. "We use different colors for the same things: colors for the morning, dusk and twilight. We create time by changing colors for different hours of the day. It sounds obvious, but it's almost never been explained with real frames."
Recommended Ghibli Movies
The Spirited Away (Dir. Hayao Miyazaki, 2001)
My Neighbor Totoro (Dir. Hayao Miyazaki, 1988)
The Wind Rises (Dir. Hayao Miyazaki, 2013)
The Tomb of the Fireflies (Dir. Isao Takahata, 1988)
Kiki: Home Delivery (Dir. Hayao Miyazaki, 1989)
The Castle in the Sky (Dir. Hayao Miyazaki, 1986)
Area Map