Yasaka Shrine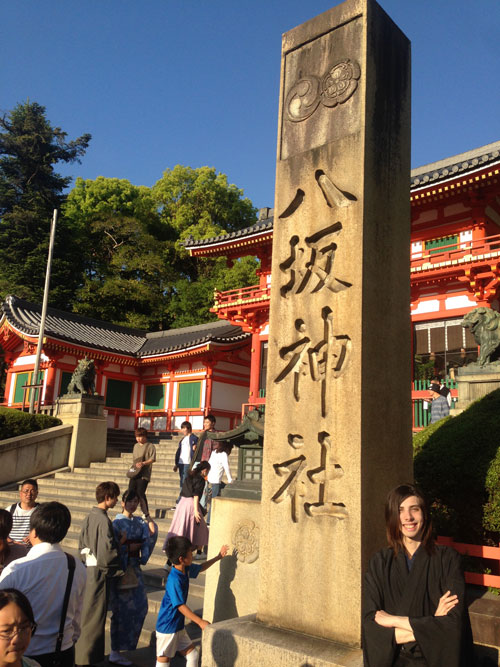 History and constructions
Located in the famous Gion district in Kyoto, the Yasaka Shrine stands out for its great beauty and its great buildings.
Founded more than 1350 years ago, the Yasaka Shrine, formerly known as "Gion Sha" or "Kanshin In," is one of the most famous Shinto Shrines in the entire city of Kyoto.
The Sanctuary worships the deities: Susanoo-no-mikoto, Kushiinadahime-no-mikoto, and Yahashira-no-mikogami.
As the capital of Japan moved to Kyoto in ancient times, visits to the Yasaka Shrine became more frequent by The Emperor, resulting in citizens also honoring this sacred place.
The Yasaka Shrine was part of the list of the most important Shrines in Japan that should receive government support.
Today the sanctuary is located between the Gion district and the Higashiyama district, being very easy to reach on both sides.
Its main door is high rise and red. There are several food stalls and occasionally there are also small stalls selling used Kimonos. Upon entering the Shrine site, it can be seen that the Haiden buildings (The front of the Shrine) and the Honden (Main Shrine) are united in the same building. In front of the Haiden is a stage full of beautiful lamps with local business names for the prosperity, which were put there thanks to a business donation. These hundreds of lanterns light up at night, leaving a very beautiful night landscape.
Gion Festival
The Yasaka Shrine is home to the renowned Gion festival, which takes place every year, throughout the month of July. This festival is the most famous in all of Japan because of its beautiful floats, traditional dances, classic kimonos dating from the Heian Period, gastronomic variety and the Omikoshi (Portable Shrine) promenade.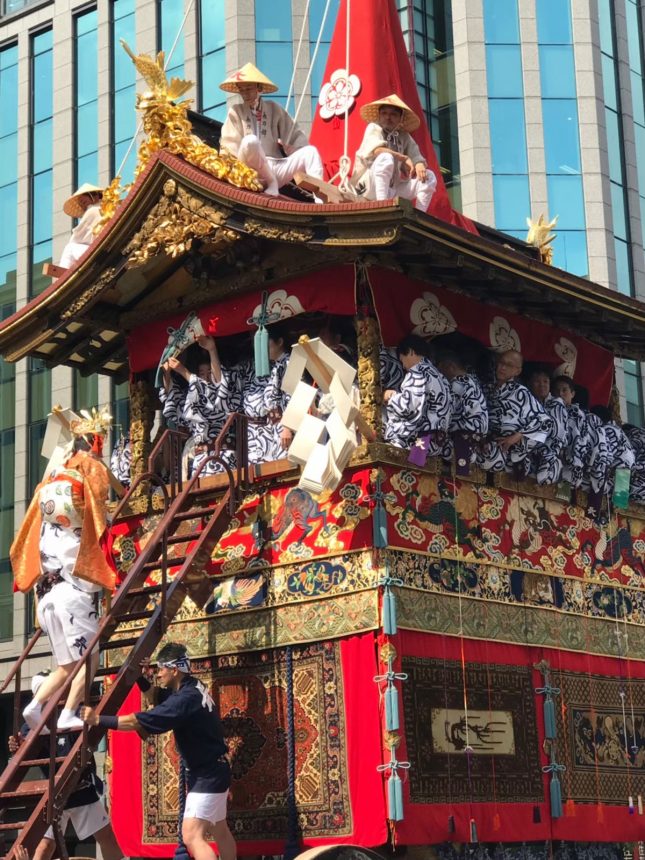 Cherry blossom season
In April, when the cherry season reaches the land of the rising sun, just behind the Yasaka Shrine is Maruyama Park, visited by many due to the beautiful landscape formed by the combination of the imposition of the Yasaka Shrine along with the delicate flowers of cherry, or rather in Japanese, the "Sakura" flowers.
Also, when it is not cherry season, this park can serve as a refuge for those looking for a little silence and want to observe a simple and relaxing landscape.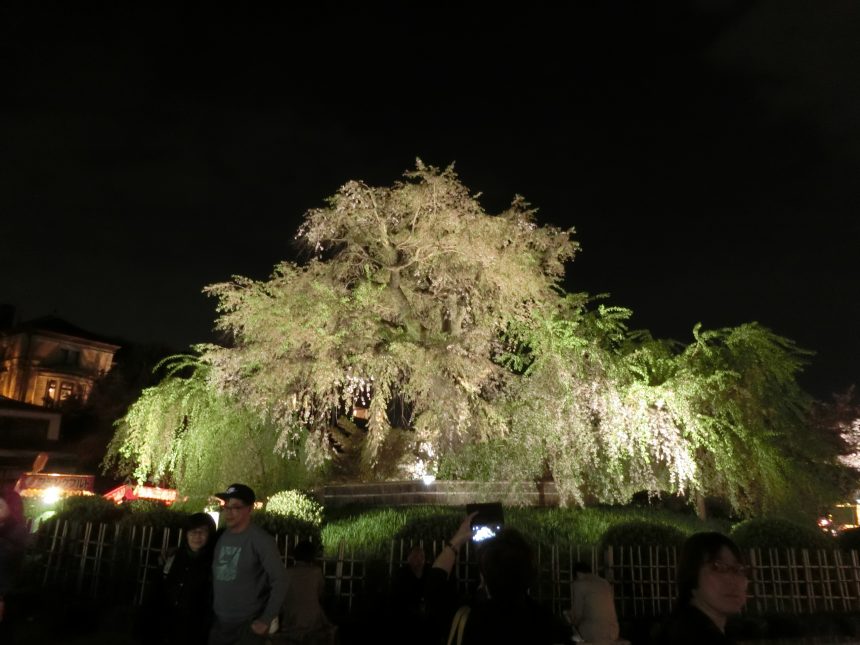 The Yasaka Shrine is open 24 hours a day, 365 days a year without any entrance fee.
Both day and night, the Shrine offers a special visit to those who want to connect with the peace of ancient Kyoto.
Information
Access:
From Gion bus stop